Do I need an appointment?
Appointments are recommended so that we can ensure you receive the attention and care you deserve during your visit.
How long will my appointment last?
We recommend allowing yourself at least 2 hours to make your initial selection as we have hundreds of dresses to choose from!

Alteration appointments however, are approximately 1 hour for brides and half an hour for all other dresses. We welcome all alterations - even if you didn't buy your dress from us!
Where is Michael's Bridal located?
1330 Perry Highway in Pines Park Plaza in the North Hills, right near the intersection of Three Degree Road and Perry Highway (Rte. 19).
What are Michael's store hours?
Monday, Wednesday and Thursday*: 12pm - 8pm
Friday: 11am - 3pm
Saturday: 10am - 3pm
Tuesday and Sunday: Closed
*Winter hours: Open 2pm - 8pm (January-March)

Does Michael's only carry special order gowns?
Many of our gowns, bridal and bridesmaid, are available by special order. However, Michael's also does sell several sample gowns off-the-rack at a discount.
What is the price range of gowns carried at Michael's?
Most of our orderable bridal gowns range from $500 to $2000. We also have a wide selection of off-the-rack bridal gowns starting at only $299. Maids, Mothers and special occasion dresses start at only $99 off-the-rack! Check out our current sales and specials here!
How long will it take for my order to arrive?
Order time depends solely on your designer. Most orders take approximately 4-6 months for bridal and 3-4 months for all others. Rush orders are always available for an additional fee.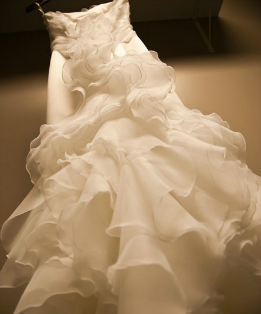 Yikes! Why am I ordering a different size than I normally wear?

Don't be afraid! It is not unusual to order a size or two larger in your bridal or bridesmaid gown than you would typically choose in ready to wear garments. Designer dresses tend to run small. Sizing depends upon each designer's individual size chart.
Can Michael's ship my wedding gown?
Of course! We can ship your wedding gown or bridesmaid gowns anywhere in the U.S. for an additional fee, however we always recommend coming in to Michael's for your final fitting to ensure the perfect fit.
Does Michael's do alterations?
Absolutely! Michael's is proud to boast one of the most experienced bridal seamstresses in the Greater Pittsburgh Area - our owner, Yolanda. Alterations are not included in the price of the gown. Please discuss charges and estimates with your consultant. Again, we welcome all alterations - even if you didn't buy your dress from us!
What forms of payment does Michael's accept?
Cash, personal check, MasterCard, Visa and Discover.
More questions? Please call us at 412-366-1811